Top 9 Best Reseller Hosting Providers in 2021
Posted on |
If you are a web developer and you don't want a headache of starting your own web hosting company from scratch, then we are here again with the best reseller hosting providers for you.
Reselling hosting can be way easier to manage and also you can enter the field very easily with very few barriers. In reseller hosting, you can sell your hosting to someone who needs it. You purchase the hosting plan and then sell it away, this is often used for those businesses who need to provide hosting to their customers.
HOSTGATOR
1.
HostGator holds the top most position in best reseller hosting providers. It maintains and provides the best and qualitative average uptime guarantee of 99.98%, that is HostGator ensures your customer's site remains up every time thus we can count on it for stability.
HostGator provides unlimited client accounts, however, it provides limited bandwidth and space disk of 600 Gb -2500 Gb and 60 GB -250GB respectively. This reseller hosting provider is best suited for your customers who run websites with low demand or have small businesses.
It also offers the free domain reseller account with each reseller hosting plan. HostGator has strong customer support, providing 24*7 customer services to its users via live chat or phone. It has been said that HostGator is the greenest reseller hosting provider, it has reduced its carbon emissions by 130%.
It provides a money-back guarantee of 45 days, which means if you don't like the services of HostGator then you can take your money back within 45 days of signing in your account. HostGator doesn't provide daily backups to its users. It provides weekly backups to those who have 20GB and 100000 inodes. You need to pay an extra cost of $25 every time in case you need backup. This is something which many customers complained about HostGator as other reseller hosting providers provide you free backup facility at the same prices or below them.
The pricing plan varies from $24 to $99.
Website: https://www.hostgator.in/
InMotion
2.
The second best reseller hosting provider Inmotion provides cheap reseller hosting to its users. Its average uptime performance is 99.97% well we can count on it for its stability.
Many web designers are often in search of various features at a very low price. Inmotion stands up to the mark to become a cheap reseller hosting provider. The client account varies from 25 to unlimited depending upon the plans and moreover the disk space varies from 80 GB-260 GB and bandwidth varies from 800 GB to 6TB.
It provides 90 days money-back guarantee. With such features and that too at minimum prices, it has been explicitly used by many web designers. It has the highest number of plans, you can easily go up with the cheapest plan and slowly upgrade it according to your need. This scalable environment provided by the Inmotion makes conspicuous growing future prospects to the web designers. This is also what has brought Inmotion into the list of best resellers hosting providers.
And this is not where it stops, it also provides the best customer support 24*7 via live chat, phone, and email. They ensure that any problem you face is to get solved as soon as possible, well this is really helpful for the business in their growth. It provides the longest money-back guarantee than any other company provides. It provides 90 days after sign in within which you can ask back the money if you don't like the services. Thus we can say that Inmotion is very confident in providing the best quality services than any other reseller hosting provider. This even shows its accountability.
Inmotion provides relatively fewer client accounts on the cheaper plans. It provides only 25 accounts at $29.99 per month, while HostGator provides unlimited client accounts at $5per month. The basic pricing plan of Inmotion starts from $29.99 per month and scale up to $99 per month. Well, you can choose the plans according to your requirements.
Godaddy reseller hosting
3.
One of the most famous and renowned names which always makes its place in the best reseller hosting providers is Godaddy. It is the name heard by most of the web designers. It offers you different features. What is best about Godaddy is that you can sell its major parts, it allows you to sell its domain name, SSL certificates, and even its website builder.
Moreover, it provides you the unmetered bandwidth, this is much needed when you have clients holding larger traffic. This minimizes the chances of sites crashing.
It maintains an uptime of 99.97% which is a strong uptime average, which means it keeps your website stable. Disk space provided by Godaddy varies from 90 GB and 240 GB according to plans. It offers 30 days money-back guarantee well that is crucial in case you don't like its services you can easily take your money back. If you are paying monthly then it provides you 48 hours money-back guarantee. It has a robust customer support system. A team of dedicated workers sit and work day and night in order to provide you technical and other customer services so that you don't need to rush or panic at an hour of need. But there is one problem that the customer support you can get is just between office hours, so this might sometimes create problems for web designers.
Moreover, unlike others it provides free backup, this will manage your account and your stuff can be restored automatically without having to worry about the extra cost and management. Though it is not a cheap reseller hosting provider, it is the only reseller hosting provider providing you with the unmetered bandwidth. However, you can have your client' account for up to 250.
Its pricing plan lies between $39 and $ 89 per month.
A2 Hosting
4.
A2 Hosting is one of the best reseller hosting providers that provides you with affordable reseller web hosting. It has a commendable average uptime guarantee of 99.95% well this means your site will always remain up and will be quite stable. However, it provides client accounts to web designers between 40 and 100. Well, this seems quite less however if you are working on a small scale then this can be quite useful for you in the sense of prices. The disk space is limited between 30 GB and 200 GB. It provides bandwidth between 400GB and 2000Gb. They all vary from plan to plan. The basic plan of A2 hosting provides the minimum but as the pricing plans start to grow the features to increase with it. Like other reseller hosting providers, it ensures you 30 days money-back guarantee and hence is accountable to its users. It also provides free backup plans, unlike other best reseller hosting providers where you need to pay an extra cost every time for the backup. This is one of the many reasons why experts point to A2 Hosting as one of the most affordable resellers web hosting providers.
A2 Hosting is widely known for the customer support it provides to its users. It has maintained the excellent and professional service delivery since its inception and extensively improves the same with time
However, the main problem is limited space disk and bandwidth. It often creates problems for those sites which are receiving huge traffic as there are chances of sites crashing in busy time due to its limit. A2Hosting also doesn't provide a scalable environment of further growth. As the plans are of low limits.
The pricing plan basically ranges from $19.99 to $60.99 per month.
SiteGround Reseller Hosting provider
5.
SiteGround reseller hosting is one of the leading performers which promises you exclusive web hosting reseller plans. Well, let's go further into more specificities. It provides you a wide range of services from reseller shared hosting to reseller cloud hosting. Acquiring more than 2 million domains, SiteGround is a global company. It is dedicated to constant improvements and technological advancements, providing sustainable growth in the future prospects of the clients. Hence, if you are the right person in the search of the best reseller hosting provider then SiteGround will never disappoint you.
It has maintained an excellent average uptime guarantee of 99.99 % and is consistent in providing it. It most often doesn't falter in providing uptime so you can be assured that your website will not face downtime for hours and hours, unlike other reseller web hosting providers. It has six data centers spread across the world which provides not redundancy, speed, and quality technological support. It practices account isolation on shared hosting which is likely to diminish the chances of hacking your account or any malware attack from black hat hackers. This ensures greater security for your website. It has a great quick response time and quick loading time. Thus it is efficient and fast in responding. There is a huge scalable growth for your client's website on this reseller hosting provider. The company is very keen on providing you with excellent and top-level professional services, thus it has intelligent and highly knowledgeable and experienced staff working in the technical department to provide you with high-quality technical services. Their staff goes under rigorous training of 3 to 6 months before actually starting the work.
SiteGround has collaborated with Sucuri.net which provides you the best defense against any illicit intrusion into your website. The Guardian detects any suspicious activity within 0.5 seconds and turns it down with efficiency. So you clients need not worry about the security issues here. Moreover, SiteGround provides you free backup plans. It keeps backups from the past 30 days, unlike other providers that are providing you web hosting reseller plans including extra cost of backups. It provides you with a free SSL certificate. The plans are very scalable and very easy to upgrade, the higher plan you select the more powerful and extra features you will get. It is also one of the most affordable best reseller hosting providers which starts with the basic plan at a very low price, making it easy for the startups which grow slowly. You can universally access it having no issues as it has six data centers.
Most of the concern with SiteGround is that it provides very limited disk space. It is just between 10 GB and 30 GB.SiteGround provides a money-back guarantee for 30 days just like other companies in the field.
The basic pricing plan starts at $3 per month and then scales up.
Green Geeks
6.
With four data centers and about 500000 and 40000 users, Green Geek is a smaller reseller hosting provider in comparison with other providers in the market. However, GreenGeeks is known for providing various advanced technological features and high-quality services to users. Experts have listed in the top best reseller hosting providers. Green Geek has an excellent average uptime guarantee of 99.98%, but there are rather ambiguous terms and conditions provided to you if there is downtime, there are no clear references whether you will provide the reimbursement if your site is offline for a longer period of time.
It's response time is 0.29 seconds which is quite decent. The fully loaded time is 1.09 seconds. However, it has very bad under a load time of 55.59 seconds. Green Geeks has a knowledgeable and highly professional support staff. It provides users to be dependent on them for solving their problems. Experienced Web designers have always reviewed it remarkably up to their expectations. Green Geek had been keen on offsetting carbon emissions by buying the carbon credits. They use renewable energy apart from this making them the best Green hosting site. It has powerful servers. They provide users with SSD hosting. It has data centers on the two continents. Green Geeks ensures the security of its users. It defends users' websites from any unsolicited activities, providing a safe environment to work and grow.
However, you are provided with a very limited backup facility. If you need backup then like most of the reseller web hosting plans you have to pay an extra amount of $25. This can create problems for you. It has been complained by experts and experienced Web developers that Green Geek has misleading market scaling plans. Thus confusing the newbies. Its basic plan starts from $2 and excels till $11.
Bluehost Reseller Hosting
7.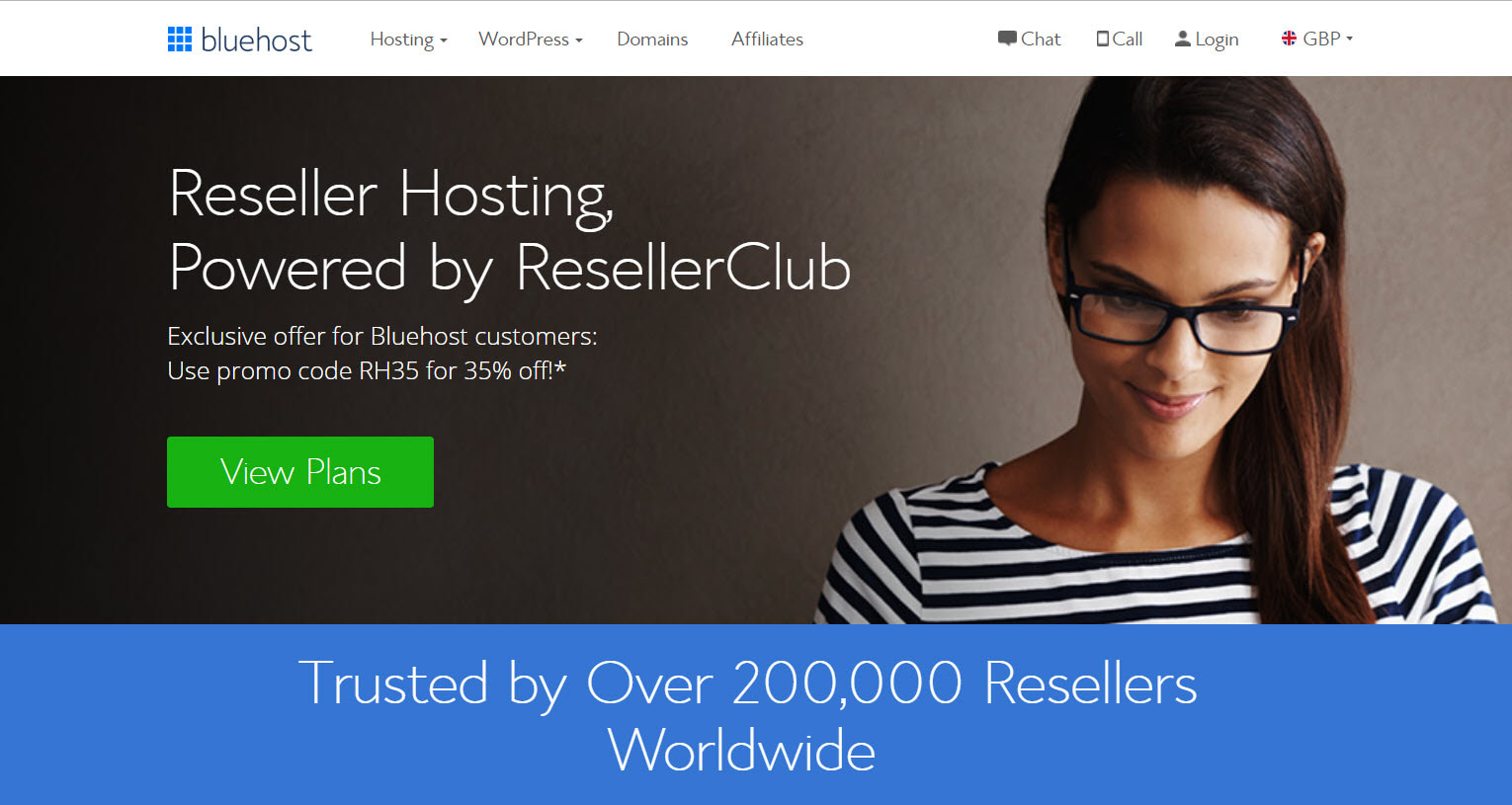 Bluehost has been continuously in the list of best reseller web hosting providers. Bluehost has successfully completed its fifteen years in this market. It was founded in Provo, Utah. It has a base of more than 2million websites. Bluehost has given its users the best quality services and has maintained its excellence till far. It provides you with an excellent uptime of 99.98%. Though it doesn't give you any uptime guarantee yet it has maintained its average uptime. So no worries for this
It has a very fast response time of approx 0.43 sec. Its loading time is also fast by 0.95 sec. Unlike SiteGround it is quite stable under load that is 0.65 sec. It provides its users with the best quality technical support all the time. The infrastructure of BlueHost is commendable. And has been termed as solid infrastructure by the experts.
It provides its users free backup, while unlike other reseller web hosting providers where you need to pay an extra cost every time you buy a backup. It gives you free domain name suggestions. Well, that comes as an extra boon to the websites for they get tired of searching domain names. This manages and clarifies the available domain names you can choose within the industry. It also provides a free SSL certificate that enhances the security of your client. Just like other reseller hosting providers it gives you 30 days money-back guarantee. However, you need to pay for the migration of websites. You Renewal payments get a steep hike well this is also done by other companies, however, this is not at all praisable.
Basic pricing plan starts from $2.95 and gets increased till $13.5 in Business pro plan.
Scala Hosting
8.
Scala Hosting a new name in the industry, it is a US-based company holding the base of approx 700000 domains. It has two data centers, one in North America and another in the EU. It has 13 years of experience yet not so known among the users. However, it provides you the rich class features. It is more in research and development than in marketing that is the reason they aren't widely known.it provides an excellent uptime of 99.99%, you can be assured completely that your website will not suffer downtime for hours and hours, your website will be online. It is one of the best reseller hosting providers which provides you the quickest response time of 0.29 seconds, this is something remarkable of its quality. Time taken to fully load the website is also decent which reaches 0.76 sec. Underload of the website happened 30 sec. It is the fastest service provider to the users.
This has been achieved only by constant improvements and advancements in its efficiency. It has a wide base of knowledgeable staff that is extensively trained for the purpose of providing professional and high-level customer service to the users. The technical support is very good, also it has a very responsive support system that quickly responds to your queries and problems. You will enjoy working in a friendly environment provided by ScalaHosting. It ensures the security of users' websites and hence some well-advanced features in preventing malware attacks. It has a very scalable environment that helps your website to grow.
It provides you with daily backups that too for free, this reduces your hectic of backing up the already piled old sites, moreover, it is more affordable. Moreover, it provides you free migration of your website, well this is something, not all other reseller hosting providers provide. It provides free domain names to you if you sign Scala Hosting for 6 months. Otherwise, this costs extra by $10-15. Moreover, it provides unmetered bandwidth which very few best reseller hosting providers are offering these days.
Its mini plan starts from $3 and goes upto advanced olan of $9.
InterServer
9.
Founded in 1999, Interserver has been continuously growing and expanding. Mike Lavrik and John Quaglery are the two prominent men behind the success of InterServer. It maintains an uptime of 99.95 %. It is one of the fastest providers. The response time is 0.19 sec.well this is something that takes users back. The loading time is just 0.75 sec. Which is the fastest in the whole industry? However, the underloading time is really high at about 47 secs. It has a decent support system and is very responsive. It has a wide knowledge base and well-trained staff working hard day and night in order to provide you the best support system. It has a very friendly environment.
The security system of the InterServer is very tight and hence you can count on it for your website security. It has maintained a solid infrastructure. It has four data centers, three of which are located in NewYork itself while the other one is located in Los Angeles. Moreover, it provides you free weekly backups, this is something which is much desired by the users. Also, it offers its users free site migration where other providers are charging a good amount for the same. One thing which is best about InterServer is that it has a very transparent pricing plan. However, it itself has a poor website and hence this can be the reason why users do not always prioritize InterServer.
The main problem is also in the customer area, as not all controls function in an expected manner. This can create a huge hurdle for the users in the middle of their project. Web designers however have found InterServer affordable and cheaper considering the features it provides. It also provides unmetered bandwidth and unlimited disk space. Also, emails provided are unlimited. You can make payments through debit or credit cards. The standard reseller web hosting price is $5.
TEAM DATASERVERMARKET VIEWS
Some of the Web Hosting Services which we recommend our user family :
For Discount and Offers CLICK HERE
Hello readers, Check out our Discount Offers and Coupons.
In our upcoming blogs, we discuss all the aspects of best managed to host providers for WordPress. Also our personal Review over the best services you can look forward to. In this blog, we understand the best web hosting for WordPress, and there uses in different aspects of working type.
Share and comment on your valuable feedback which we weren't able to include in our Blog. Your comments provide value to us. It makes us more energetic and we try our best to give value to our Dataservermarket family.
You can also check –